Efficient automation solutions for e-components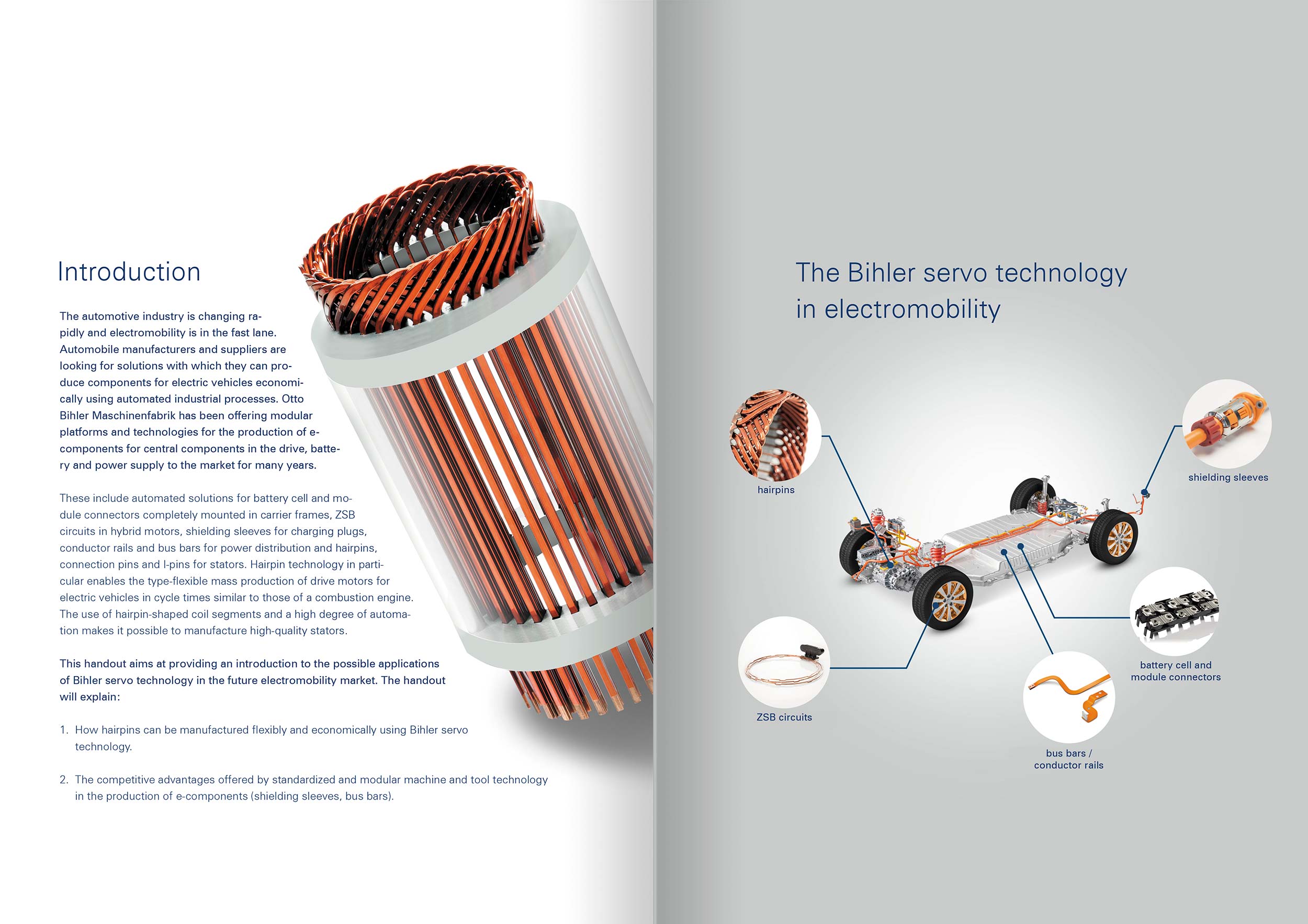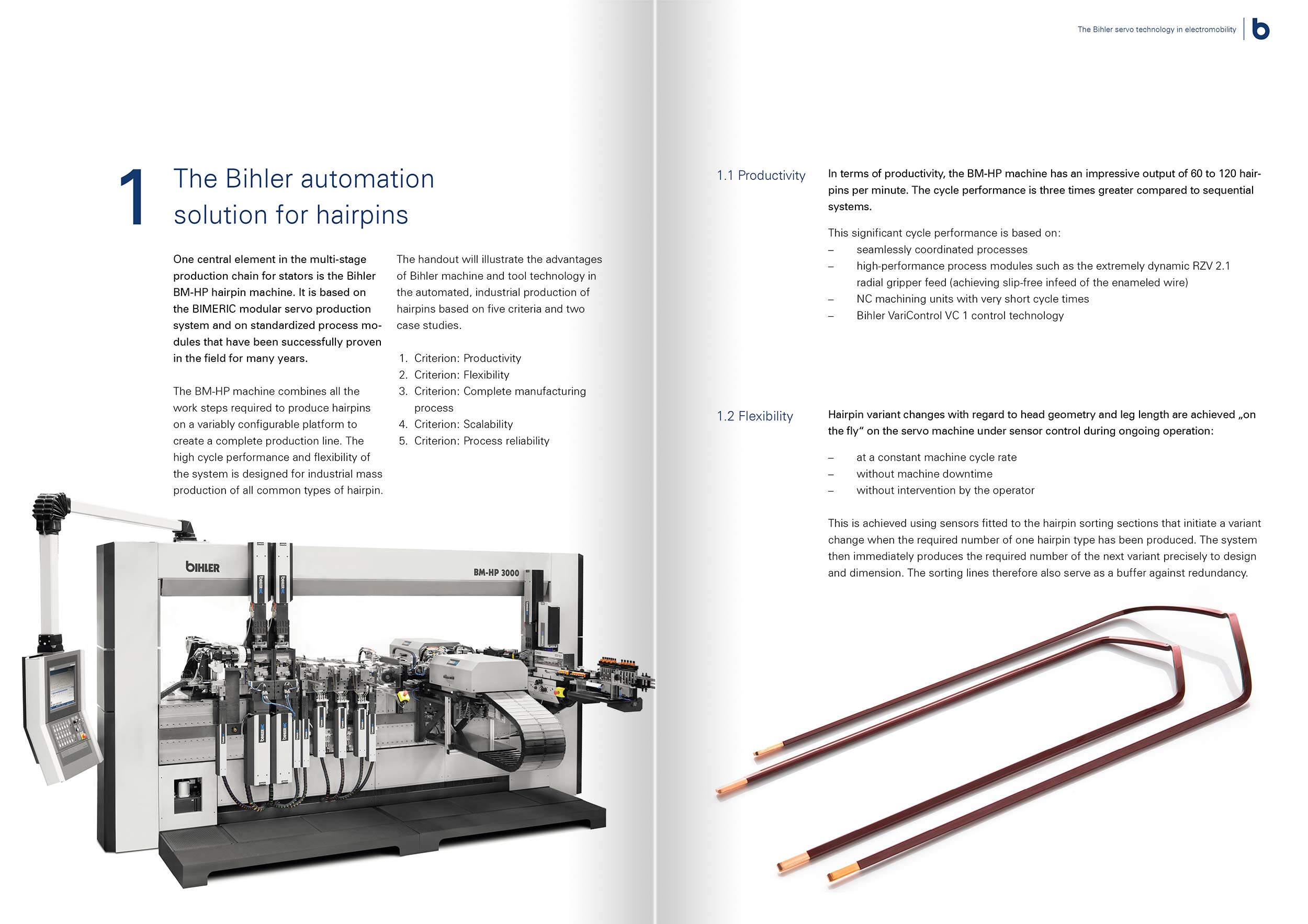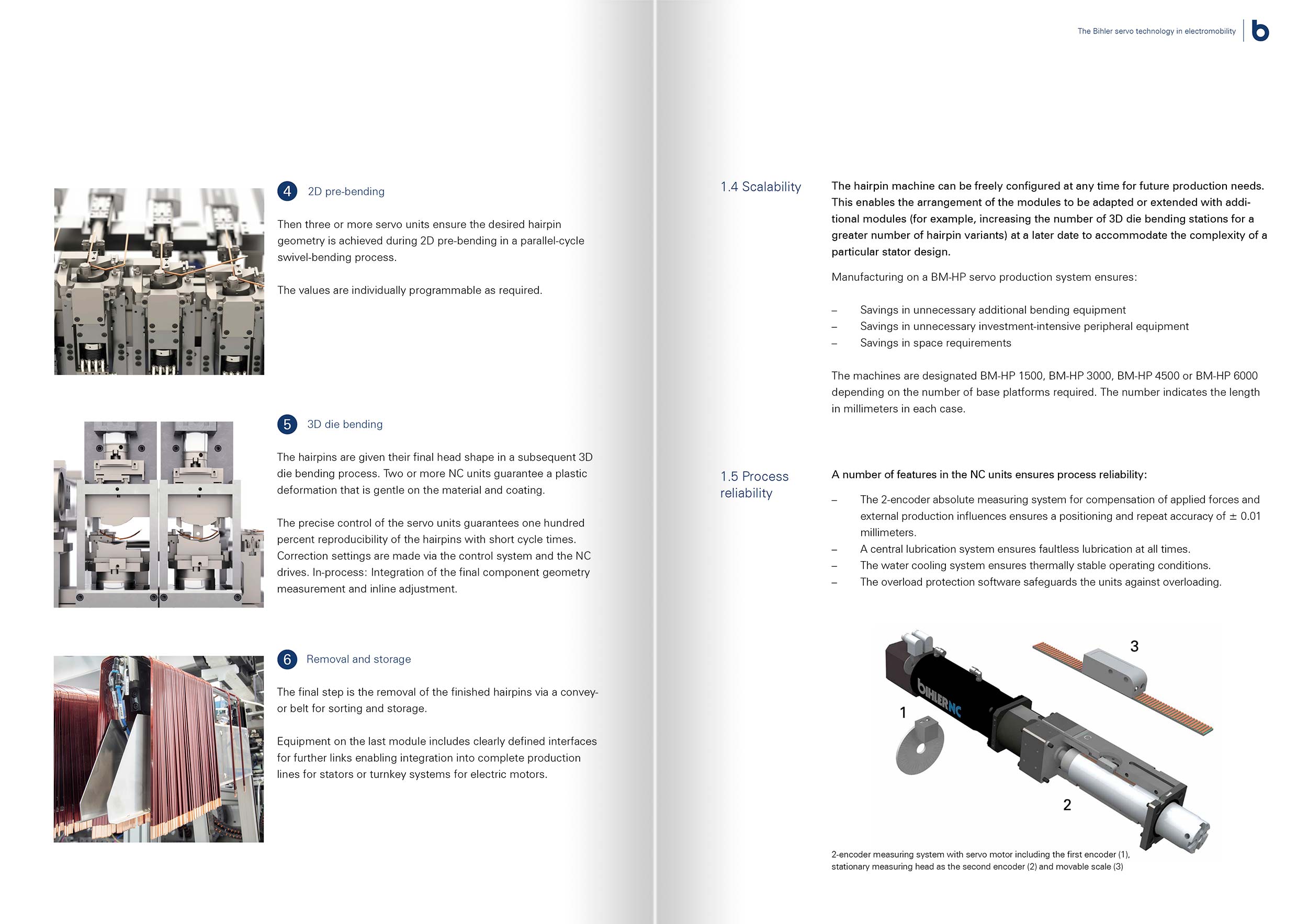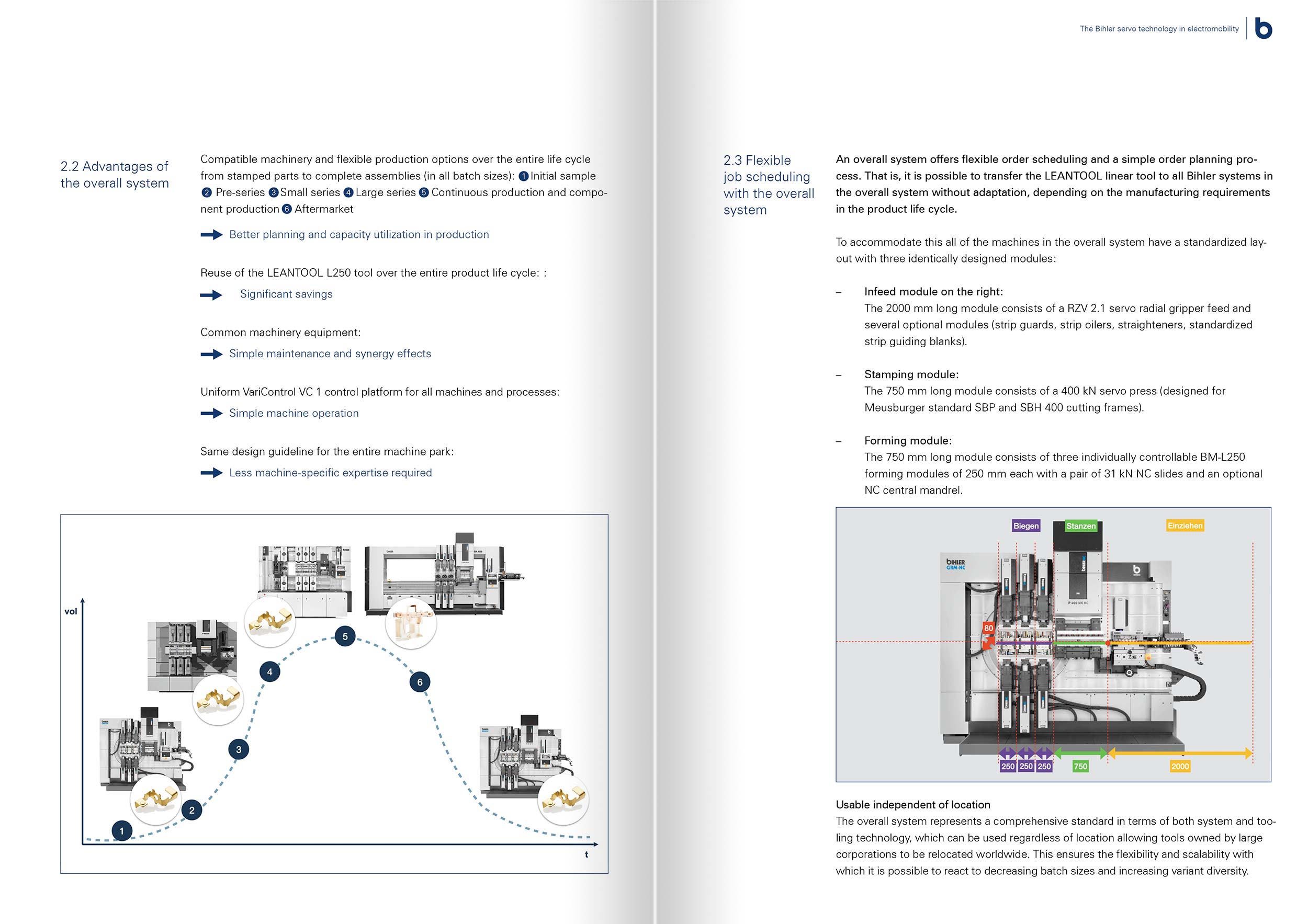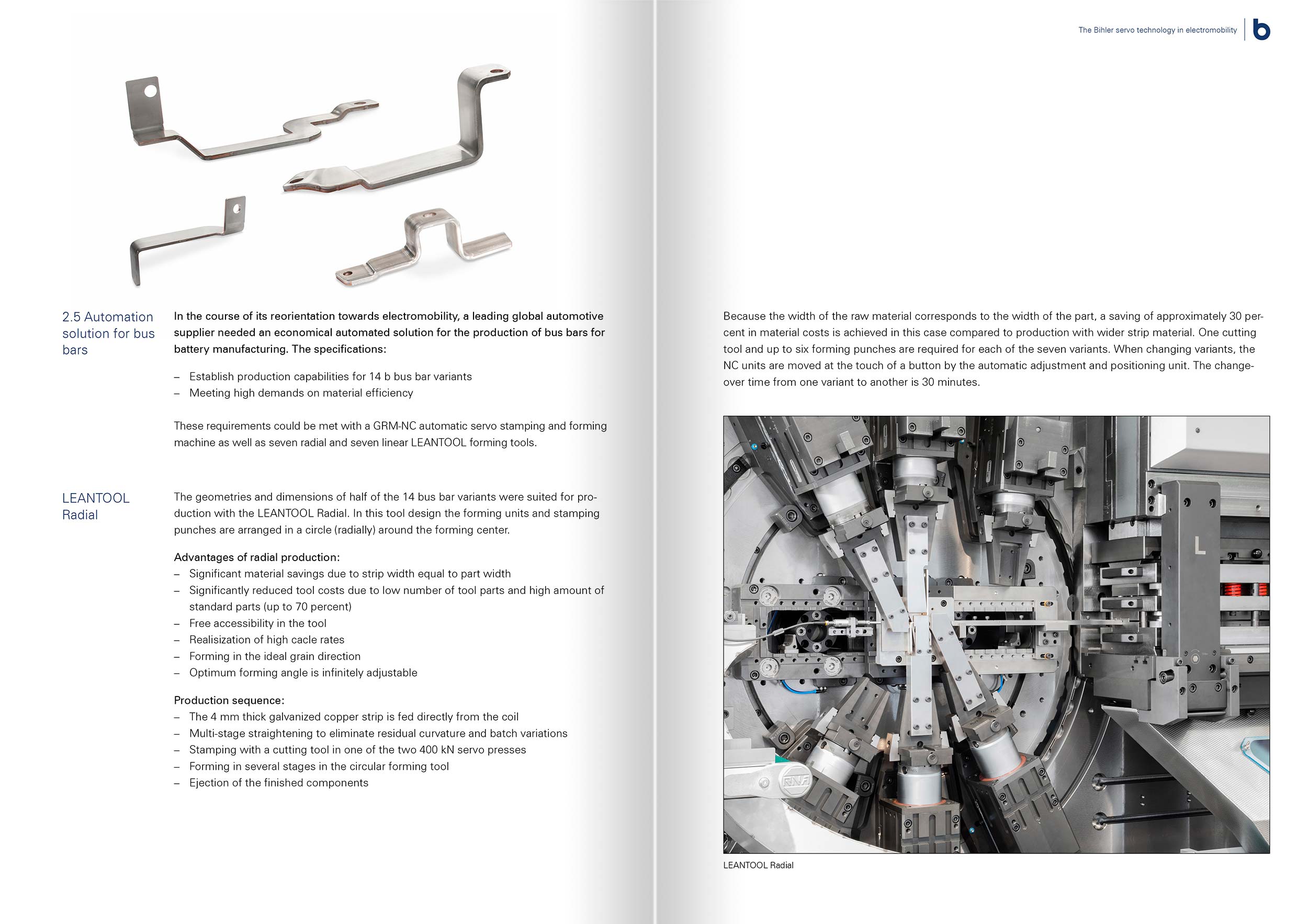 Flexible and economical production of hairpins
Productivity 5
Flexibility 5
Complete manufacturing process 7
Scalability 9
Process reliability 9
Case studies 10

Standardized and modular machine and tool technology

Machine and tool technology 12
Modular LEANTOOL linear tool 13
Advantages of the complete system 14
Flexible order scheduling with complete system 15
Automation solution for shielding sleeves 16
Automation solution for busbars 18
Automation solution for bus bars with laser welding application 22
The Bihler servo technology in electromobility
The automotive industry is changing rapidly and electromobility is in the fast lane. Automobile manufacturers and suppliers are looking for solutions with which they can produce components for electric vehicles economically using automated industrial processes. Otto Bihler Maschinenfabrik has been offering modular platforms and technologies for the production of e-components for central components in the drive, battery and power supply to the market for many years.
These include automated solutions for battery cell and module connectors completely mounted in carrier frames, ZSB circuits in hybrid motors, shielding sleeves for charging plugs, conductor rails and bus bars for power distribution and hairpins, connection pins and I-pins for stators. Hairpin technology in particular enables the type-flexible mass production of drive motors for electric vehicles in cycle times similar to those of a combustion engine. The use of hairpin-shaped coil segments and a high degree of automation makes it possible to manufacture high-quality stators.
Otto Bihler Maschinenfabrik GmbH & Co. KG, with 1,000 employees, is the world's leading system supplier for automation solutions in stamping, forming, welding and assembly technology. Bihler technology is used in industrial sectors such as the automotive industry, electrical/electronics industry, medical technology, etc.
The company's headquarters are located in Halblech/Germany. Bihler has further subsidiaries in Füssen/Germany, Phillipsburg/USA and Kunshan/China. Representatives in the most important industrial nations guarantee customer proximity and excellent service.
How can I support you on the subject of e-mobility?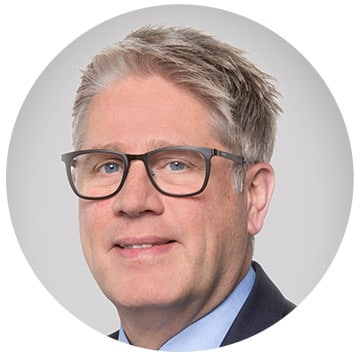 You would like to increase the efficiency in your production of e-components and are looking for a strong partner? Then contact me.
Martin Lehmann
Key Account Manager E-Mobility

+49(0)8368/18-136
e-mobility@bihler.de